Natural swimming pools & garden ponds
Aquatiss well known in the natural pond market
Aquatiss has become an expert and has grown during the last decade from a distributor into a sales consultant for the construction and the distribution of natural pond products.
Today Aquatiss is one of the French leaders on the ecological pond market with over 300 ponds already to its credit. Aquatiss is accompanying you with quality products and technical advice.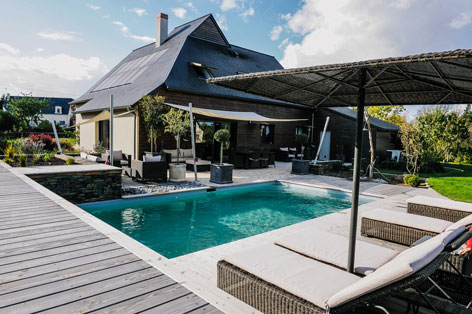 Enter the world of natural swimming pools with Aquatiss and enjoy fresh and refreshing water, healthy for you and the environment.
Natural swimming pools
The principle is simple and consists in chemical-free pool water. Mechanical and organic filtration provides unparalleled water quality. The natural outdoor pool is divided into two areas: the natural swimming area and the so- called lagooning area. This area is a small water garden filled with aquatic plants necessary for natural water purification.
This natural system is combined with an adapted filtration. The biological Aquatiss filter adapted to your water volume and your use, ensures perfect water quality that prevents filamenteous algae development.
Aquatiss : Pond material
Aquatiss distributes a large quality range of pond material for the maintenance of natural ponds and pools. We distribute widely recognized brands on the natural pool market and have developed our own brand of algae remover products.
Aquatiss is also the official Nexus and Eazypod distributor in France. Nexus is a strong mecanical and biological filter for natural pools and the Eazypod filter is adapted for smaller outdoor ponds.
Our online shop is dedicated to owners of koi ponds, ornamental ponds and natural pools. All our online products (protection felt, EPDM cover, pumps, filters…) preserve the environment.
Meet us on natural ponds and pools aquatiss.net