The Envirotiss brand
Envirotiss specializes in the sale of products for landscaping, market gardening, horticulture, nurseries and agriculture. Envirotiss offers a wide range of innovative and high quality products for outside such as ground covers, root-barriers, gravel and grass stabilizers, garden edges, EPDM sealing, green roof systems and agricultural protection covers.
Green roofing systems
Green roofs compensate for the green spaces that are being destroyed by the building industry. They enhance housings and make buildings look nicer.
Green roofs improve the air quality (hygrometry, dust, toxics). Plants function as natural dust binders and help to reduce the quantity of airborne particles.
Covertiss modulo® has been specifically designed for easy and efficient green roofing. Covertiss modulo® is a unique culture system made out of one single block with all necessary layers for green roofs : draining layer, water reservoir layer, filter layer, growing medium layer and vegetation layer.
Covertiss Strato® is a cost-effective green roof system for extensive and semi-extensive flat green roofs (up to 20%). The Covertiss Strato® system is made out of different layers specifically designed for this kind of work.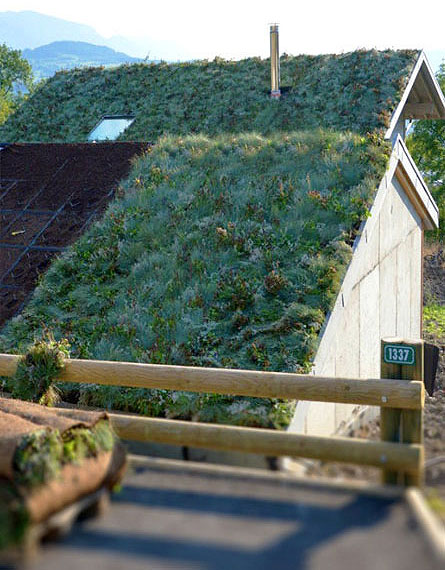 Root-barrier: Efficient protection against spreading roots
The anti-rhizome is a sealed membrane necessary to protect areas often damaged by surrounding
Envirotiss offers a simple and efficient root barrier solution for preventing invasive growth and damage by aggressive plant roots ensuring simultaneously the growing of plants. Thanks to its high-density material, it offers a high puncture and deformation resistance.
Applications : Underground drainage, sewage, piping and cable systems, patios, paved areas, asphalted surfaces as well as buildings and utility channel
Ground cover: weed control
The Envirotiss brand offers a wide range of synthetic and biodegradable ground covers, woven and non-woven to fight against weeds whereas water can still be absorbed by the soil.
Ground covers are the ecological solution for weed control of plants, shrubs and barriers and support at the same time their growing.
Applications : hedges, barriers, perennials, trees and shrubs, gardens, green spaces.
Stabilizers for Gravel / Grass
The gravel and grass stabilizers from Envirotiss increase natural pathway strength for pedestrian and traffic areas such as driveways, sideways, parking places, golf courses and sports fields with artificial surfaces.
Our gravel and grass pavers offer an original and ecological solution to transform your garden area into a grassed/graveled parking.
The Ground Grid, a honeycomb 3-dimensional cellular structure, is the ideal solution for stabilizing pathways and parking places but also for long lasting draining areas...
These different solutions offer the advantage of building filtering and draining surfaces, where water can be absorbed by the soil in case of heavy rainfall, unlike asphalted or concrete surfaces that can lead to flooding.